How to deposit in Tiger
1. Visit the Tiger deposit Page
If you already have a Tiger account, you can visit the deposit page via Tiger Trade APP or Tiger official website.
1.1 Sign in to the Tiger Trade APP, go to the「Trade」function and for select「deposit」.
For customers without any deposit before, please click 「Deposit Funds」as shown in the picture on the left.
For customers who have already deposited in Tiger, please click 「Deposit」as shown in the picture on the right.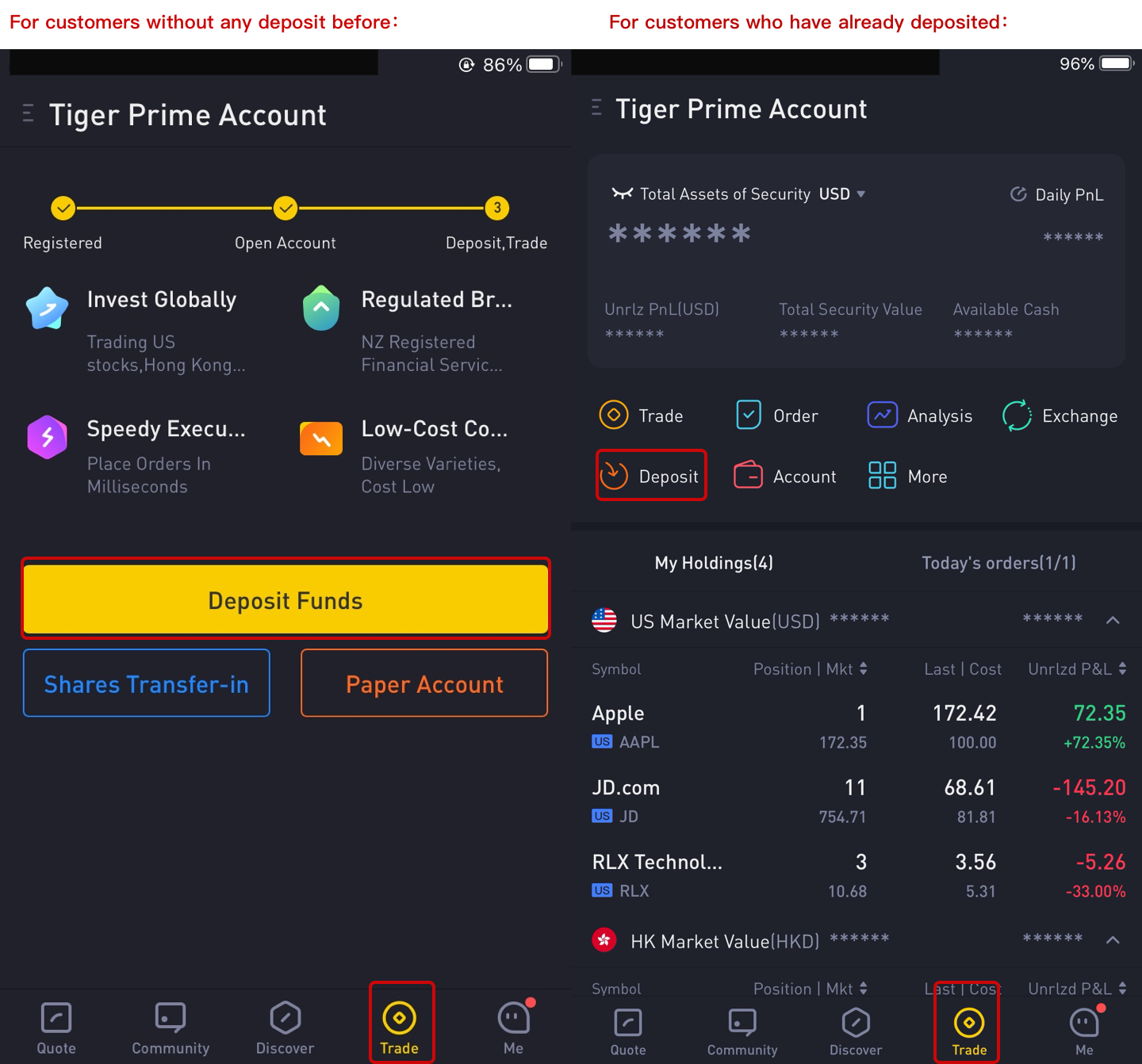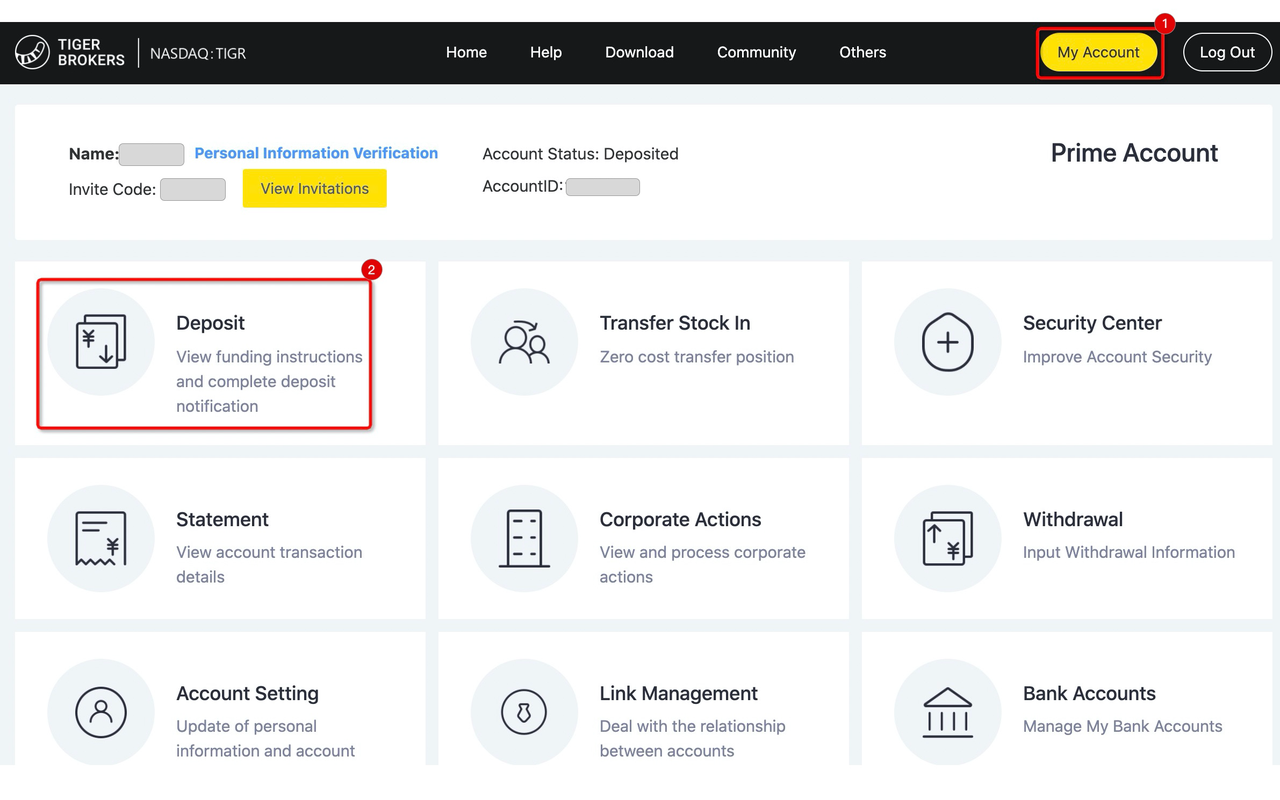 2. Choose the way to deposit and check the deposit guidelines
2.1 Choose how you would like to deposit funds:
「POLi 」and 「Bank transfer」are supported.
For POLi deposit, please check How to deposit through POLi? This page mainly introduces the procedure of「Bank Account Transfer」.
2.2 Select the currency you would like to deposit: It is recommended to choose AUD for deposit;
If you do not have any of these currencies, you can exchange the currency at the bank first (also you can choose the currency you need for stock trading, such as exchanging US dollars for trading US stocks), and then deposit.
2.3 Select remittance bank: A bank account in your region is recommended;
For example: if your bank account is in Australia, please select "Australian bank Account".
2.4 Check Tiger's Recipient details and log into your bank to make a deposit
Please remit money to the recipient account shown on Tiger App via mobile banking or online banking.
Note: Recipient Details may be different for different users. Therefore, please do not directly use the information shared by others to operate the deposit, and do not directly share your information with others.
If you are using a new bank account to deposit funds, please complete the bank account authentication. You can also authenticate the bank account after initiating the deposit.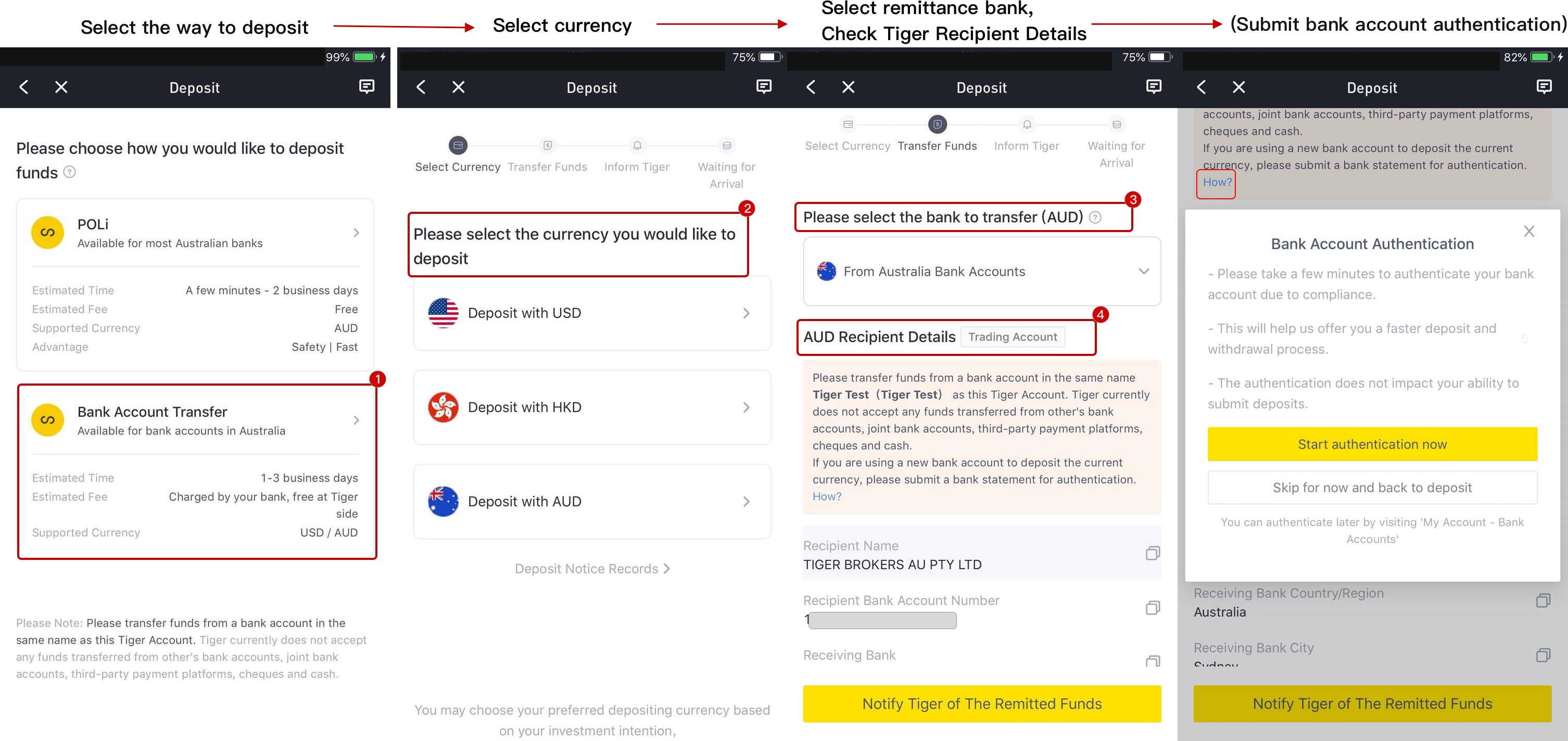 Please copy the information required by the remitting bank such as the Recipients Name, Account Number, Payment reference from your Tiger Trade App. Then, paste them into your banking Recipient Details.
When making a remittance, please try your best to fill in the "Payment reference/comment" (your name + prime account number in Tiger APP) provided by Tiger for quick deposit and enter some decimal in the remittance amount. For example, to remit HKD 10,000.00, you can enter HKD 10,000.23.
Query path for "Payment reference/comment" in Tiger APP : 「Trade」-「Deposit 」- 「Bank Account Transfer 」- Select 「Currency」 - Select 「The bank to transfer」, then slide down, copy the 「Payment reference/comment」at the bottom.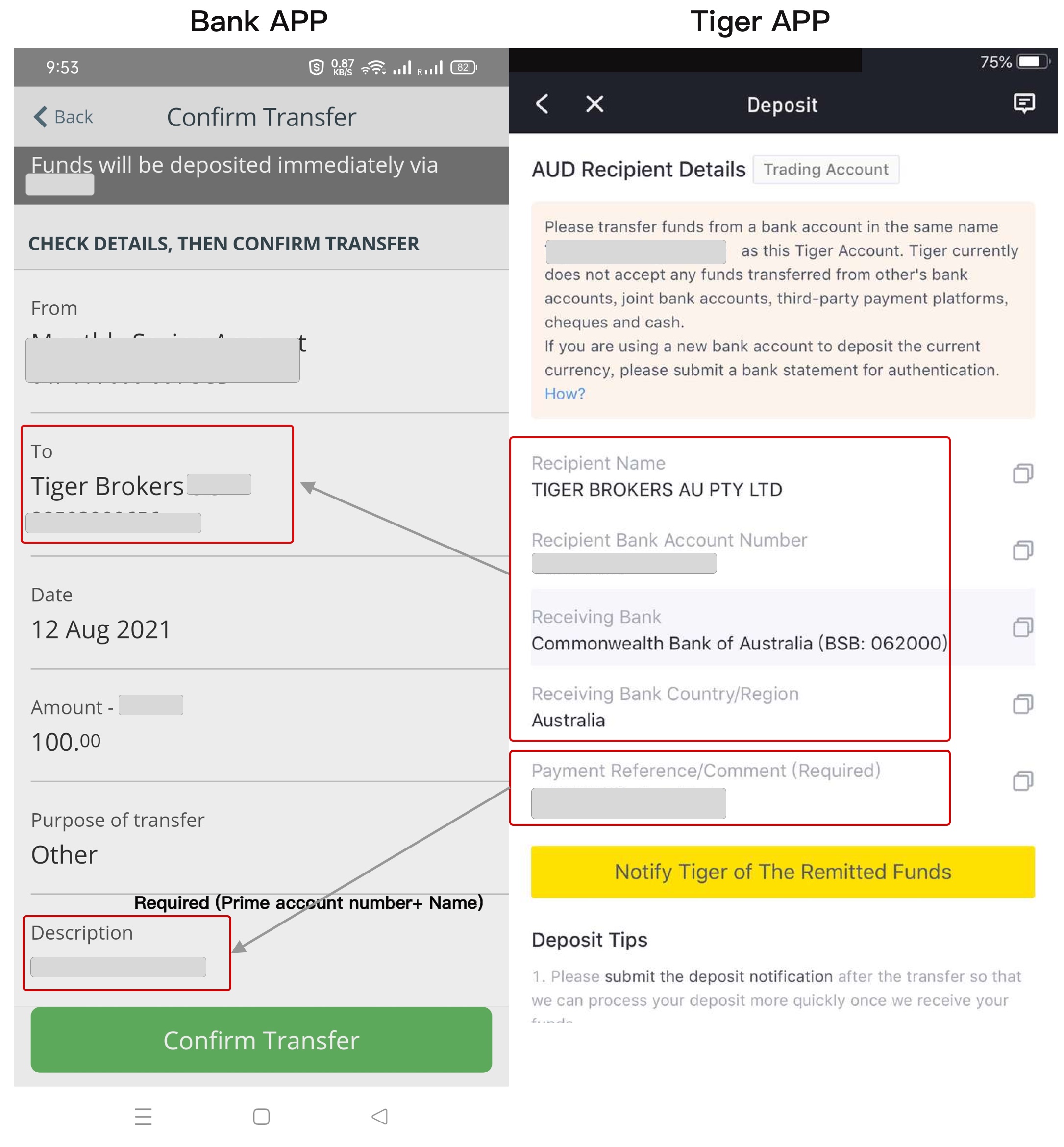 4. Submitting the deposit notification
To ensure your deposit is processed as quickly as possible, please submit the deposit notice in Tiger APP after bank remittance.
4.1 Path of submitting your deposit notification: Open 【 Tiger APP】, choose 【Trade】 - 【Bank Account Transfer】-select 【Currency】 -【Select the bank to transfer】, at the bottom of the page to select 【 Notify Tiger of the Remitted Funds 】, fill in the remittance information and upload remittance screenshots, click 【Submit Deposit Notification】, then complete the operation.
4.2 Please pay attention to the following information when filling in the deposit notification.
Save key screenshots during remittance, then submit images or PDF files of the remittance to Tiger. Try to use clear images or PDF when uploading, and ensure that the remittance record is sufficient;
If you have more than one remittance, please fill in the notification separately against your bank records.
---
Matters need attention:
1. Tiger currently does not accept any funds transferred from other's bank accounts, third-party payment platforms, joint bank accounts, cheques and cash. Please use the bank account with the same name as your Tiger account to initiate the deposit.
2. Please refer to the information displayed in your Tiger account for deposit recipient details. If the bank rejects or delays the payment due to your incorrect input information, Tiger will not be able to bear the loss caused by you.