Procedure of Withdrawal
1. The bank account used for withdrawal must have the same name as the Tiger account. Withdrawal to other people's bank account is not supported.
2. Before withdrawal from Tiger account, please confirm the amount that can be withdrawn on that day. Factors affecting the amount of withdrawal include deposit&withdrawal, stock trading, transaction fees, settlement, etc. For more details, please view the introduction of Withdrawable Amount.
1. Visit the Tiger Withdrawal page
You can access the Withdrawal page through Tiger Trade APP or Tiger official website.
1.1 Sign in to the Tiger Trade APP and go to「Trade」 - 「More」- 「Withdraw Funds」.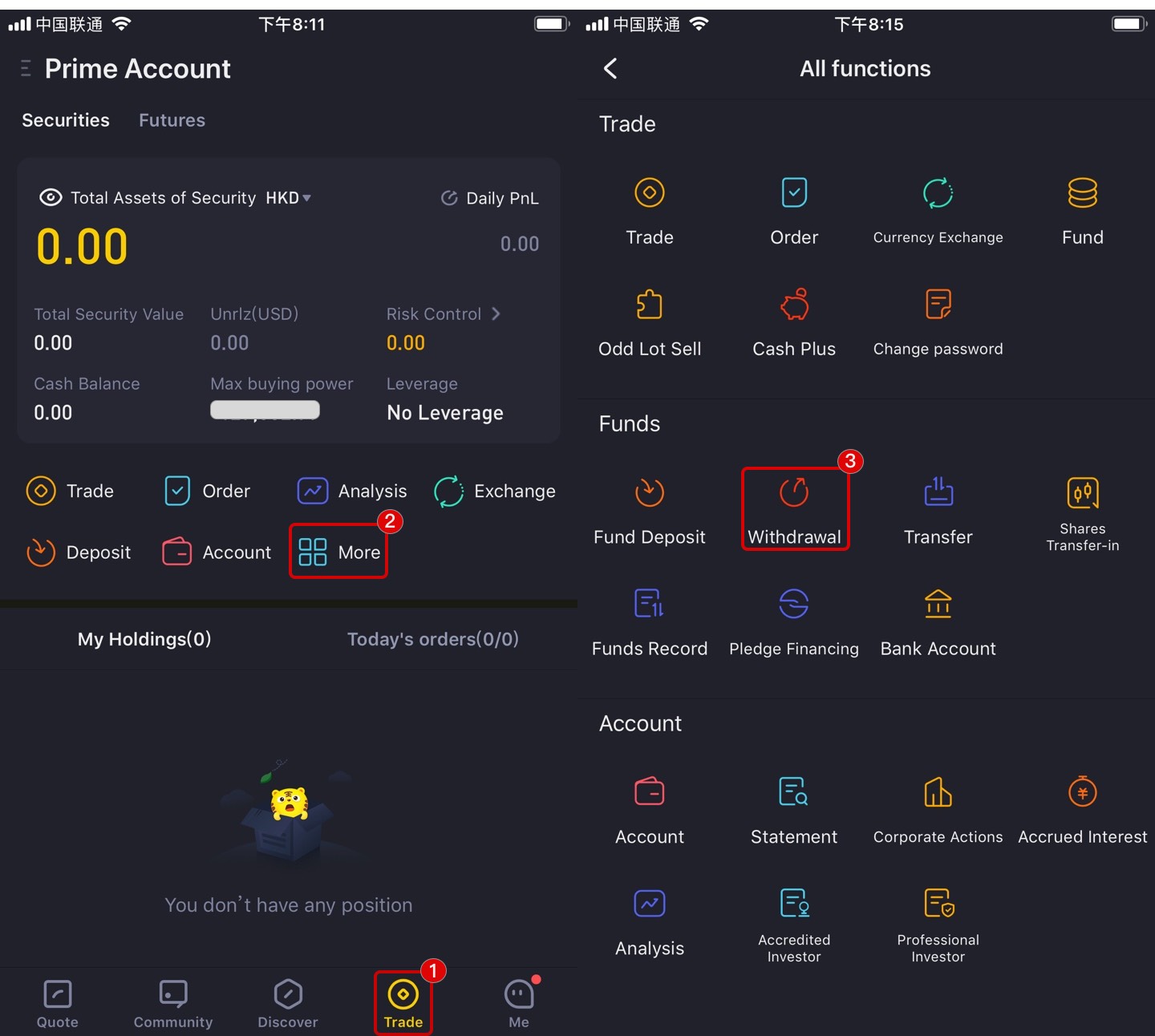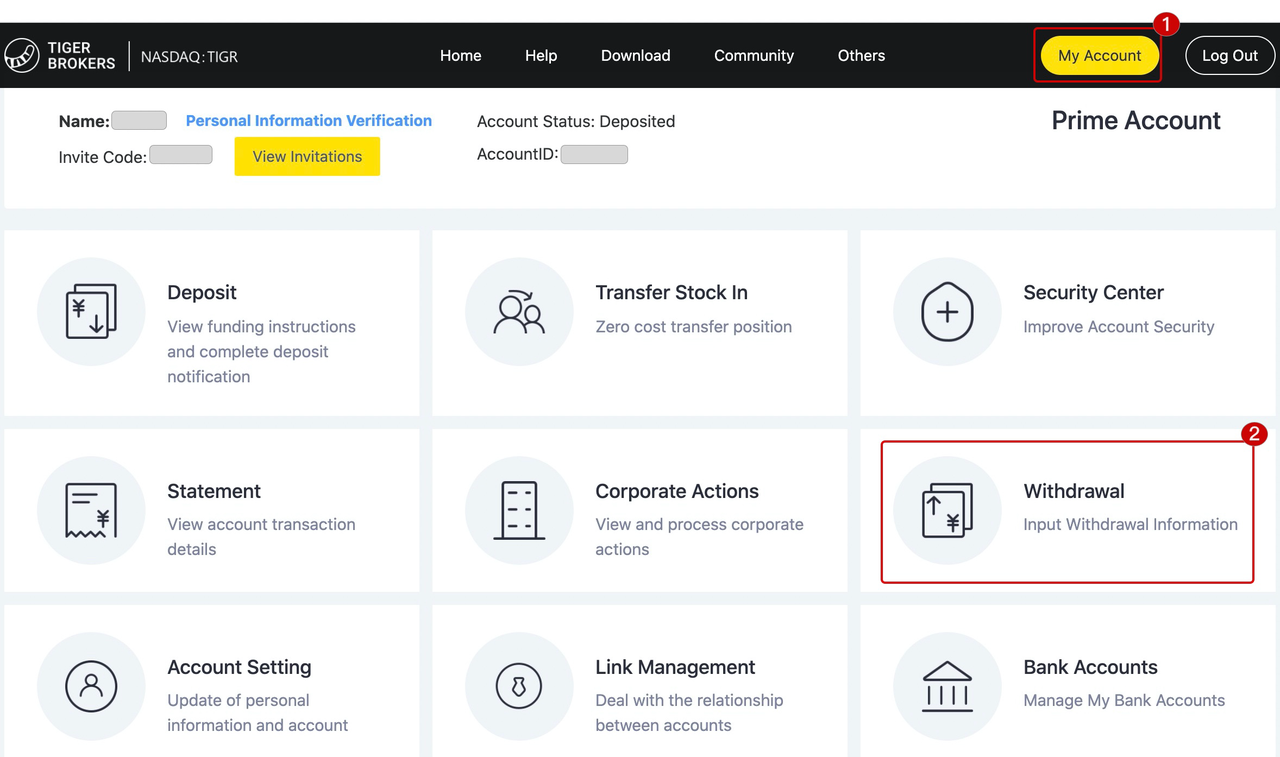 2. Submit withdrawal application
2.1 Select the withdrawal currency
You can choose to withdraw balance currency;
Tiger also supports exchanging the account balance into the currency you need before withdrawal. (Please refer to

Currency Conversion

for details)
2.2 Select the receiving bank account and fill in the withdrawal amount and reason
You can select or add a receiving bank account in the「Receiving Bank Account」;
For withdrawal amount, please refer to the introduction of withdrawable amounts for details.
Note: Please select your own bank account as the collection account for your withdrawal.
2.3 After entering the login password and mobile verification code, please confirm to submit the withdrawal request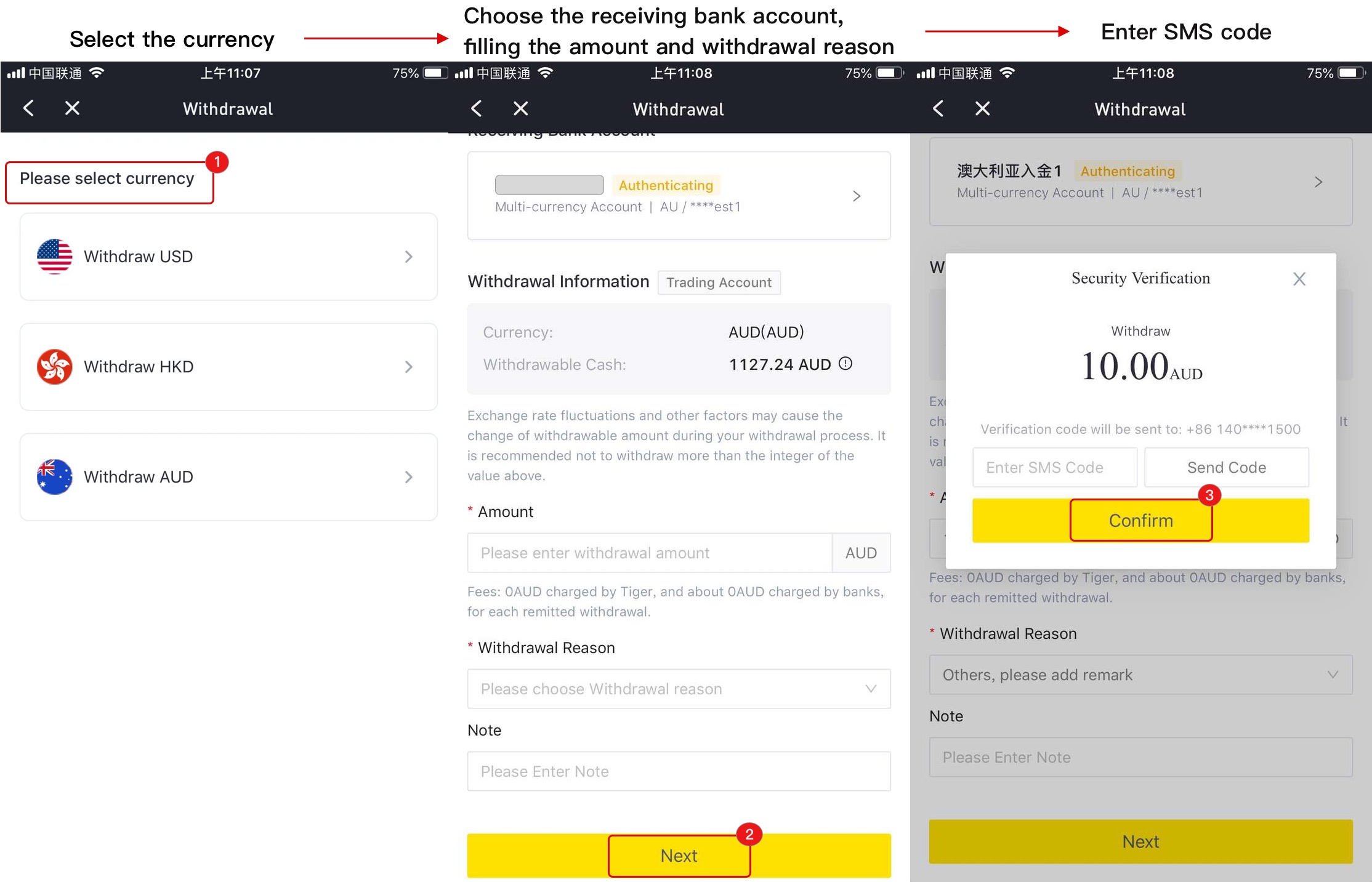 View the withdrawal process
Once the withdrawal request was submitted, you could check the withdrawal process or cancel the request, through "withdrawal request records" pages in Tiger Trade APP.
Below is the description of common withdrawal processing status:
Reviewing: 1-2 work days are needed for the review, thanks for your patience. You could cancel the request when it's under Reviewing.
Rejected: The request didn't pass the review, you could find the reject reason in Tiger Trade APP.
Awaiting withdrawal: The request passed the review.
Bank Processing: The money was deducted from your securities account, and will be remit out after the bank processed.
Failed: We can't remit the money out because bank rejected. The money is returned to your securities account.
Remitted: Your money was sent to your personal bank account.
Refunded: The money was returned by beneficiary bank, and re-credited into your securities account.
Cancelled: You've cancelled the withdraw request.
---
Disclaimer
If the client's payment is returned by the receiving bank due to incorrect information such as your receiving bank account number or other reasons beyond Tiger's control, Tiger cannot bear all the time and economic losses incurred by you.